The time in North Cyprus is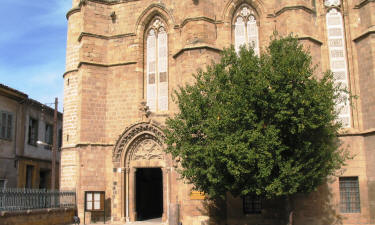 The Haydar Pasa Mosque
The Haydar Pasa Mosque was built as the St Catherine Church by the Lusignans in the 14th century, and was the second largest church in Nicosia at the time. It is the most substantial Gothic monument in Nicosia after the Selimiye Mosque. Great buttresses flank its high, slender windows, the roofline rimmed with gargoyles. The southern door is a masterpiece of detailed stone carving, and the Lusignan coat of arms are above the door, along with an ornamental poppy or acanthus bud. The west entrance is larger with the same architecture. Its frame is decorated with motifs of roses and dragons. The west facade is adorned with a Catherine window, shaped like the wheel of the saints' martyrdom.
The building, which was used as part of the woman's monastery during the Latin period, had parts added and modified during the Ottoman period, and the church converted into a mosque. A purpose-built minaret was added on to the south west corner, sadly in a style not in keeping with the original structure. The church was renamed the Agalar Mosque in 1570.
In the 1950s it was used as the marriage and registration office. The mosque was restored between 1986 and 1991, and reopened as an exhibition gallery (the H P Gallery) in 1994.
See location in Google maps.
Back to Nicosia Index.