The time in North Cyprus is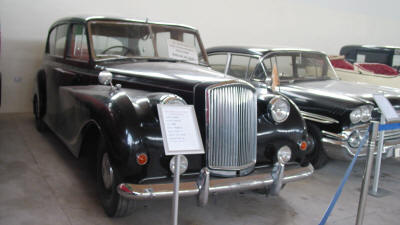 Dr Kucuk's Princess, With the Chevy Biscayne in the Background
Hidden in the depths of the Near East University's campus on the northern outskirts of Nicosia lies one of North Cyprus' most unknown museums.
The Classic Car Museum, the first of its type in North Cyprus, shows the history of the automobile over the last 100 years, and also gives an insight into the lifestyle of the early TRNC politicians.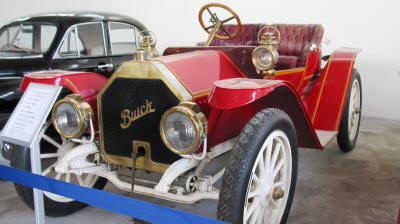 1909 Buick
Most of the vehicles here are owned by the university's founder Dr Suat Gunsel, a lifelong motoring enthusiast, who wants to keep the cars in roadworthy condition, and allow the younger generation to see vehicles from the past.
Around 60 vehicles are present, ranging from early 20th century horseless carriages to vehicles of the 60s and 70s.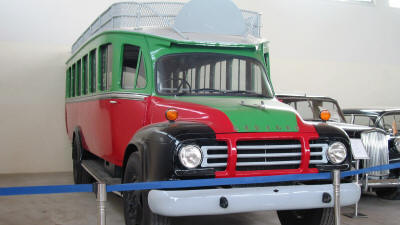 1963 Bedford Bus
Included in the collection is the Austin Princess, used as an official car by Dr Fazil Kucuk, the first vice president of the Republic of Cyprus. This sits alongside a Chevrolet Biscayne, which was used by Osman Orek, a prime minister of the Turkish Cypriot state.
One of the most noticeable vehicles in the museum is a 1963 Bedford bus. This is similar to ones that were used all over the island in the 1960s.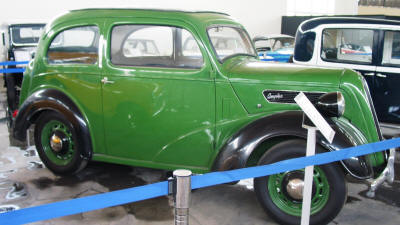 1940s Ford Anglia
On display here you will see the classics; Bentleys, Lagondas, and a Jaguar XK120 from 1948. You will also see the cars of the masses; a Ford Anglia from the 1940s, a Popular from the 50s, and an Escort of the 60s. All alongside Minis, Beetles, and Morris Minors, as well as a handful of more modern supercars.
The museum employs six staff to ensure that the vehicles are well maintained, and to work on the restoration of cars that will end up on display. This is not a static museum. The cars are started regularly to ensure they keep running perfectly, and some of them can be seen at classic car rallies around the island.
The museum is open on from 8am to noon, and from 1pm to 4pm on weekdays only. To reach it, enter the university campus and turn left at the first roundabout. From there it's signposted. Entry costs 10TL for adults and 5Tl for children and students.
See location in Google maps.
Back to Nicosia Index.