The time in North Cyprus is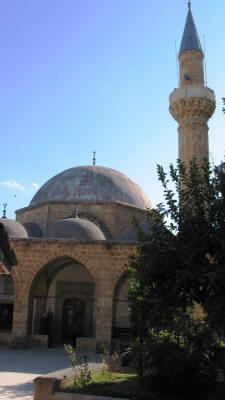 Arabahmet Mosque
The Arabahmet mosque is at the northern end of Salahi Sevket Street (Victoria St) in the Arabahmet area of north Nicosia. It was probably built in the late 16th century, and is named after one of the commanders of the 1571 Ottoman expedition, Arab Ahmet Pasha, who was the Governor General of Rhodes. Built in the Anatolian style of dome on square, it is only one of two examples in Cyprus, the other being at Lapta.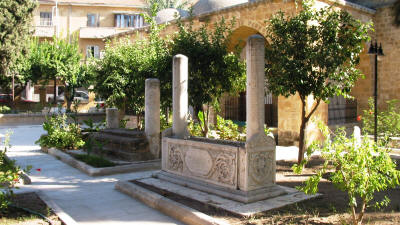 The mosque Courtyard
The mosque was built on the site of an old Latin church, and among the floor tiles, there are around 25 tombstones with inscriptions and drawings. The mosque was restored in 1845, and again during the 1990s.
Outside the mosque there is a garden with a fountain, cypress trees and graves. These have been well preserved and are in good condition. Among the graves is that of Kamil Pasha, born in 1832 in Nicosia. He rose to the rank of Grand Vizier in the Ottoman empire towards the end of the 19th century, the only Cypriot ever to do so. He died in Nicosia in 1913, and in 1927, Sir Ronald Storrs, the Governor of Cyprus had a tomb made for Kamil Pasha with a panel in Turkish and English placed on it.
The graves of two Turkish governor of Cyprus, Ishak pasha and Hafiz Hasan, can also be found here.
See location in Google maps.
Back to Nicosia Index.