The time in North Cyprus is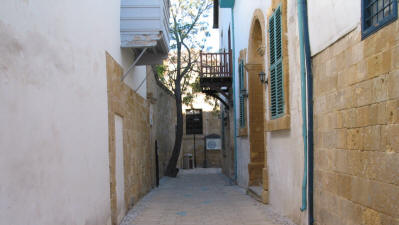 Arabahmet Culture and Arts Centre
The Culture and Arts Centre is located in Sehet Mehmet Hussein Street in the Arabahmet area.
This listed building retains features dating back to the Lusignan period. Over the centuries it has had many facelifts, including its magnificent wooden ceilings from the Ottoman period. The theatre hall was originally built by the British.
More recently, the building has been restored as a cultural centre for the area, and houses a theatre with a stage and changing rooms, an exhibition hall and offices. The building has an L-shaped layout, and is partially two storey. There are three main entrances, one of which is from the car park area at the rear of the complex.
The restoration of this building as part of the Nicosia Master Plan, aimed at improving the social and cultural aspects of the area of Arabahmet, and has been proved to be one of the most successful of the Arabahmet Rehabilitation projects.
See location in Google maps.
Back to Nicosia Index.