The time in North Cyprus is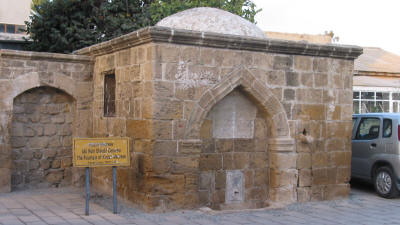 Ali Ruhi Fountain
This fountain was built by the Ottoman Governor of Cyprus, Ali Ruhi Efendi in 1829, at the same time as he built the Library of Mahmut II.
At the time, it was normal to build medresses alongside libraries, and this fountain was built to provide drinking water for the long gone Kucuk Medrese.
It fell into disuse, and was damaged in 1930 when the Selimiye square was redesigned in the 1930s.
It was moved to its current location, about 100 yards north of the Selimiye Mosque in 1998.
The inscription inside the pointed arch is dedicated to the builder.
See location in Google maps.
Back to Nicosia Index.