The time in North Cyprus is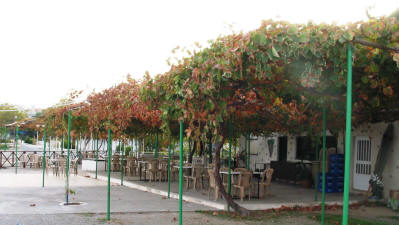 The Largest Vine in Cyprus
A few miles further west from the Palace of Vouni, you will come to the village of Yesilirmak. A right turn in the village centre, immediately passing over a bridge will take you to a small beach.
This is a popular place, with five restaurants in a space of 100 yards. The beach is known as Asmah Plaj, from the Turkish for vine, and a glance round will tell you why. The place is festooned with grape vines.
The most westerly restaurant is the one with the vine. According to Guinness World Records, this is the largest vine in Cyprus, having a diameter of 1.4m. It was planted in 1947.
Most of the restaurant owners live away from here, so opening times vary. However, you can usually find that one of them is open enough to provide a beer or a coffee.
See the location on Google maps
Back to Lefke index.