The time in North Cyprus is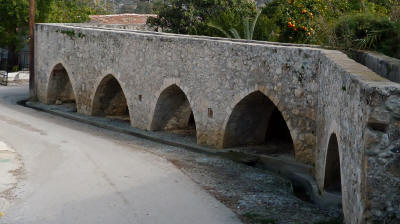 The Ottoman aqueduct
There have been aqueducts in Cyprus for over 2000 years. The plentiful supply of rain in the Troodos and Kyrenia mountains supplied the drier areas of the villages lower down the mountain and the dry plain of the interior.
Most of the aqueducts were short, although there is a particularly long one serving Salamis from about 30 miles away.
The Lefke aqueduct is thought to have been built around 1609, and is one of the finest examples of Ottoman architecture. It is still used to irrigate the orchards and fields to this day.
The aqueduct was completely renovated in 2007.
See the location on Google maps
Back to Lefke index.