The time in North Cyprus is
The monastery of Sourp Magar is situated at a height of 510m above sea level on the northern slopes of the Besparmak mountains, near the North Cyprus herbarium.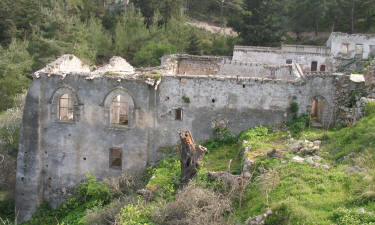 Sourp Magar Monastery
Sourp Magar means "St Makarios the Blessed". Who this St Makarios was is unknown, but it is thought to be either a 4th century Coptic hermit who lived in Alexandria, Egypt, or another 4th century hermit who was a pupil of St Anthony of the desert. The feast days of both these saints are observed by the Armenian Church on the 1st May. It is also referred to as the Monastery of Mary.
The monastery was first established about 1000AD as a Coptic (Egyptian Christian) monastery, and came into the hands of the Armenians about the 15th century. The exact date and circumstances of the transfer are unknown. Close relations between the "oriental" Apostolic Churches such as the Armenian, Syrian and Ethiopian churches, began soon after the Council of Chalcedon in 451AD.
Traditionally, Christianity was brought to Armenia by the Apostle Bartholomew, and Thaddeus, one of the seventy. In 301AD, Armenia became the first country in the world to proclaim Christianity as the established religion.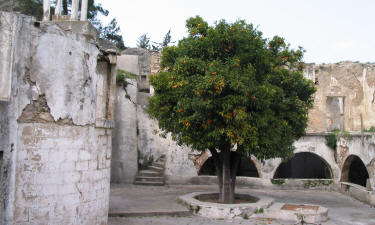 The Monastery Courtyard
Sourp Magar has been a religious centre for Armenians for centuries, the quiet surroundings providing a haven for clergymen and laymen alike. The Armenian community in Nicosia used it as a summer retreat, and it became a stopover for Armenian pilgrims on their way to Jerusalem.
The upheavals in the Ottoman empire at the beginning of the 20th century resulted in the arrival of thousands of Armenian refugees on the island, and the monastery opened its doors to orphans and to those in need. It also helped feed the hungry by developing farming on the monastery's lands which ran to around 3000 acres.
Although the last monks left in the early 20th century, right until 1974 the monastery remained a favourite place for Armenian families and schools to visit, as its grounds were particularly pleasant, especially in the hot summer months.
In 1998, there was a suggestion that the monastery be converted into a hotel, but protests from the remaining Armenian communities and prevailing economic conditions made the plan a non-starter.
Today, the monastery is in ruins and has suffered at the hands of vandals. Inside the monastery enclosure you can still see the remains of an orchard with a tiny church and pilgrims' cells lining the east and south perimeter walls. It is, however, well worth a visit to soak up the atmosphere, marvel at the views or picnic in the grounds.
See the location on Google Maps
Back to Kyrenia index.