The time in North Cyprus is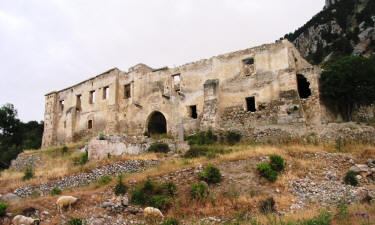 The Monastery of Sinai
In order to visit this, you have to have an interest in ruined Byzantine monasteries, hill walking, or preferably both!
The monastery is situated in the hills above the village of Karsiyaka, and is plainly visible from the coast road.
Very little is known of the monastery of Sinai, but it is obvious from the ruins that it was once an important building in former times. A large number of granite columns and some statues litter the ground. An extensive irrigation system was in place, which was important enough to be replaced as recently as 1953.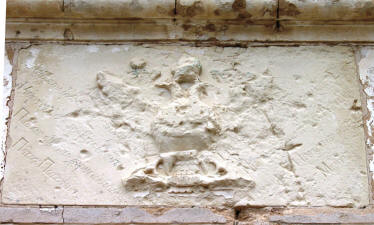 Byzantine Two-Headed Eagle
Above the entrance to the chapel, although worn down over the centuries, you can clearly see an engraved two-headed Byzantine eagle.
Repeatedly rebuilt and restored before its abandonment at an unknown date, much of its above ground antiquities have either been removed or destroyed over the years. It is thought, however, that there are still antiquities below ground level. As recently as 2007 there is evidence of thieves digging in the monastery grounds.
Records show that the monastery was in ruins by 1882 when Lord Kitchener did his survey of Cyprus.
To reach the monastery, take the road from the coast through Karsiyaka, continuing up the hill out the village. When you run out of road, park the car and continue on foot, following the road, which will now be little more than a track and eventually reaches the monastery.
See the location on Google Maps
Back to Kyrenia index.