The time in North Cyprus is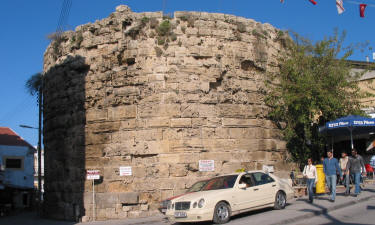 The Round Tower
Kyrenia castle was originally built in the 7th century by the Byzantines to protect the town from Arab raids. This fortification was extended by the Lusignans, and the round tower was built around 1300 using recycled Roman stones. It was joined to other round towers by a curtain wall enclosing the expanding town of Kyrenia.
The Venetians strengthened the fortification by widening the original Byzantine walls thus making the over extended Lusignan fortification largely redundant. The Lusignan walls fell down gradually, and by around 1600 when the Ottomans had become established, it was safe to build houses outside the walls. The round tower stood derelict for several hundred years, and became a roofless shell.
In 1987, Ian Smith, a local businessman, approached the ministry of Antiquities seeking permission to restore the building. Plans were drawn up, and a fibre glass dome was put in place. A wooden gallery was erected, and during the excavation work a rough "shelf" was revealed. This and the floor have been covered in natural stone flags.
The usage of the round tower has to be culturally related, and it opened in 1988 as an art gallery. Since then, local handicrafts have been added.
Although this round tower is the best preserved, there are remnants of the others still to be seen. One is on the back street leading from the Bandabuliya towards the harbour, and the another overlooks the harbour itself.
See the location on Google Maps
Back to Kyrenia index.