The time in North Cyprus is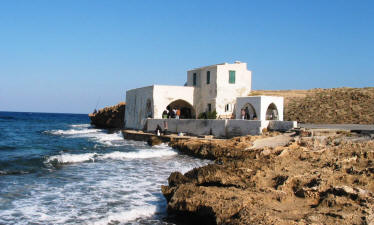 Hazreti Omer Tekke
For centuries, tombs have been extremely significant for Muslims living in Turkish territories. People have a variety of reasons for visiting those tombs, including prayers for healing, or to gain some relief for the pain in their life.
Six kilometers to the east of Girne, on the coast near Catalkoy, is the tomb of Hazreti Omer. The spectacular view of the magnificent Besparmak Mountains and the foamy waves of the Mediterranean Sea make the tomb of Omar an exquisite, peaceful location. The most wonderful aspect of the tomb is that due to it being completely out of sight, it has an atmosphere of complete tranquillity. You will not only find people who have come here to pray, but people who have simply come to chat with friends, attracted by the pleasant surroundings. This tomb is one of the most popular religious sights to visit in North Cyprus, particularly during the Muslim month of Ramadan.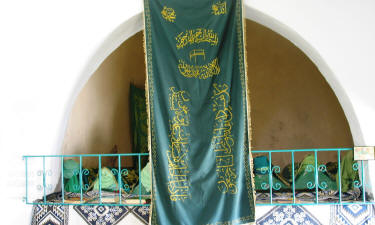 The Seven Tombs
The tomb is in fact the final resting place of not only Commander Omer, but of six other warriors or Holy Men as well. It dates from the Arab raids of the seventh century, although there was almost certainly a local pagan shrine before then.
The small mosque and Mausoleum were built during the Ottoman period at this charming coast location, and the bodies were exhumed and interred again.
In a typically Cypriot fashion, the tekke or Dervish convent which grew up around the tombs was venerated by both the Orthodox and Muslim communities before 1974.
Extensively renovated during the 1950s, the whitewashed tombs contain the mortal remains of the seven Muslim saints, the walls hung with tapestries.
See the location on Google Maps
Back to Kyrenia index.