The time in North Cyprus is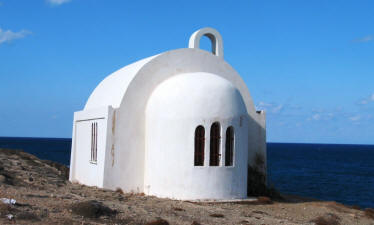 St Fanourios Church
This church is to be found in the village of Karaoglanoglu, overlooking the sea. It is small and well preserved. Dedicated to St Fanourios, it is built at the point where, as myth has it, St Fanourios, while climbing the steep cliffs, fell and met his end.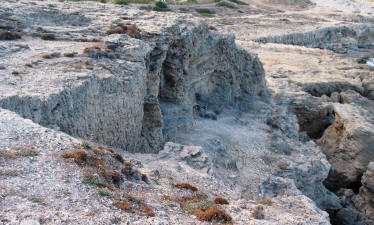 The Cliff Church
And it is to the cliffs that we look for the surprise here. Alongside the church, there are some rough steps down the cliff. Until recently, you wouldn't have noticed them if you hadn't been told they were there. However, they have now been repaired, complete with a hand rail. At the bottom, you will find a door that opens into a chapel built into a cave.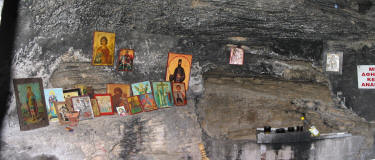 Interior of the Cliff Church
Dedicated to St George, unlike most of the Orthodox churches in North Cyprus, this is an active place off worship, and it is unusual to visit it and not see a candle burning on the small altar.
In the caves round here, fossilised bones were found, reputed to be those of the dwarf hippopotamus, and if you look at the rocks on your way down, you should be able to see them if you look closely enough.
The story is told that when the first ones were discovered, the villagers at the time, believed they were the bones of St Fanourios, and ground them up for use as medicine.
To find the church, which is not signposted, look for the road towards the Mountain View Hotel. After the hotel, pass the football ground, and you will see the church in front of you.
Find location in Google maps.
Back to Kyrenia index.