The time in North Cyprus is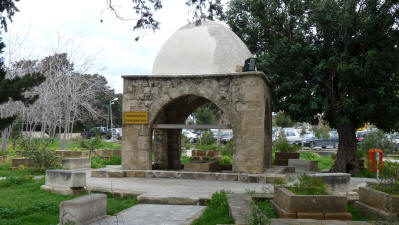 Baldoken Graveyard
Immediately south and uphill from St Andrew's Anglican church is a remnant of the once vast Ottoman cemetery. Now edged by the town's main car park, the main focus is the Baldoken Turbe (free standing tomb with a sheltering gazebo) as a focus.
When the Ottomans conquered Cyprus in 1571, this area outside Girne castle was reserved as a cemetery for soldiers. It was used for this purpose until the end of the 17th century. Cisterns, water canals and architectural tombs were built in it.
When the cemetery for soldiers began to accept non-soldiers, the name was changed to Islam Graveyard. It was also known as the "Graveyard of Forlorn"
Until recent years, the graveyard was known as Baldoken Graveyard. It was restored in 1995.
See the location on Google Maps
Back to Kyrenia index.