The time in North Cyprus is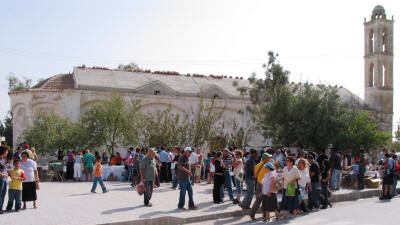 An Eco Day on the Plaza
The ancient Karpaz settlement of Buyukkonuk (Komi Kebir to Greek Cypriots) has been selected as the first eco-village in North Cyprus in and attempt to counteract the growth of mass tourism.
The scheme aims to preserve the village's local culture in an environmentally sensitive way, and promote the area as a destination for special activity holidays. It is hoped that the initiative will encourage community life in the village to continue, while raising awareness among villagers about the importance for caring for the countryside.
At the start of the Karpaz peninsula, Buyukkonuk benefits from fertile flatlands, and crops grown there include wheat, barley, and several types of vegetables. It is also rich in carob and olive trees, as well as mulberry, cypress, almonds and figs.
Three projects were completed in 2008.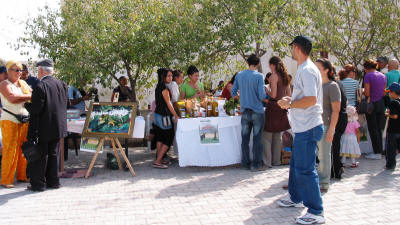 Local Products on Sale
One of the projects is the creation of a plaza and welcome area for visitors in front of the local church, which is also being renovated. It is hoped that one day the Greek Cypriots will feel they can come and visit their church again. Maps and information about Buyukkonuk and the surrounding areas will also be on display in the plaza.
Another project is the restoration of an old house which will house arts, and displays of craftworks.
The third project involves the rebuilding of a village house to provide accommodation in order to encourage visitors to come and stay in the village.
The villagers have shown commitment to the eco tourism project, forming a committee in order to maximise the success of the project. They have a regular Sunday market, and "eco days", normally on the third Sunday in May and October.
They offer special interest holidays. (Have a look at the web sites for Eco Tourism and Rozagi Guest House) You can help pick carobs, or pick your own olives, get them pressed at the local olive mill and take home your own oil. The carob season usually starts on the 3rd weekend in August, and is quite short (and hot!). Olive picking normally starts on the 3rd weekend in September, and can continue into December or longer if the season is particularly good. If you want to press your own olives, the mill normally opens shortly after the start of the picking season to allow the first of the olives to be collected.
The scheme is an example of multi-national co-operation. Funding has been provided by the United States Agency for International Development (USAID) and the Turkish embassy, while the Buyukkonuk Municipality is providing labour and equipment.
For more information about the village, have a look at its web site.
See the location in Google maps.
Back to Iskele index.