The time in North Cyprus is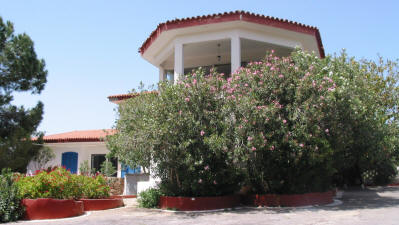 The Mavi Kosk
On the road to Korucam, you'll come across Mavi Kosk, or Blue House. This was built in 1957 by Byron Pavlides, a Greek Cypriot entrepreneur and friend of Archbishop Makarios.
A number of myths have grown up round Pavlides. What is known is that he came from a respected family involved in the motor trade. He was the main agent for General Motors, Vauxhall and Opel, with offices in Famagusta, Larnaca, Paphos and Kyrenia. What is rumoured (but without any proof), is that he was an EOKA gun runner who built his house where he did in order to keep an eye out to sea for the arrival of his gun-running ships. There are also rumoured to be secret underground passages and chambers built to hide contraband and smuggled arms.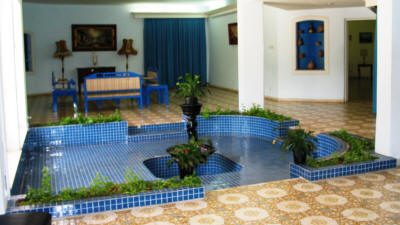 A Sunken Fountain
Whatever the truth, Pavlides was no doubt an eccentric, flamboyant man who tended to build his houses in remote areas to ensure his privacy. He had earlier built the White House on the road to St Hilarion on the outskirts of Kyrenia, and he was there in 1963 when the persecution of the Turkish Cypriots was renewed. (The white House is now inside an army area and is used as an officer's mess.)
Having fled what became a Turkish Cypriot area to the Greek Cypriot area of Morphou (Guzelyurt), he built the Blue House in a similar style, but with a blue theme. There are blue tables and chairs, a blue bathroom and a blue sunken fountain in the sitting room, among other other blue-themed features.
A Blue-Themed Room
The views from the upstairs rooms are spectacular, and whatever reason he had, you can appreciate Pavlides' reason for choosing such a location.
In 1974 Pavlides had to flee once again (supposedly through an escape hatch in the roof of the main bedroom) when the Turkish army took control of his hilltop retreat. The house was used as a residence for a Turkish general until recently, when it was vacated and turned into a museum.
Any hope Pavlides may have had that he would regain his property disappeared with the partition of the Island, and he died (depending on who's story you listen to) either broken hearted and disillusioned, or shot dead by a Turk in Italy in 1986.
Mavi Kosk is open daily except Monday. It is within a military area, so you have to leave your passport or photo identity at the gate when you enter.
See the location on Google maps
Back to Guzelyurt index.