The time in North Cyprus is
Karpasa Village
Near Camlibel, Near Guzelyurt, North Cyprus
Karpasa is one of the Maronite villages in Cyprus. The Maronites are an ancient Middle Eastern Christian sect, centred in the Lebanon, where they are one of the principal religious groups.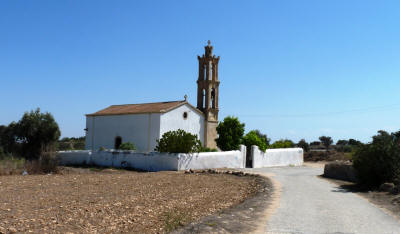 The Village Church at Karpasa
St Maron (350 - 410AD) was a monk, and friend of St John Chrysostom, one of the greatest early church founders. He left Antioch (modern day Antakya) to lead a frugal life around mount Taurus. He soon had many followers, and after his death, they built a monastery in his memory, forming the nucleus of the Maronite Church.
In 685, they elected their own Patriarch, which did not go down well with the Orthodox Church, leading to their affiliation with the Latin Church.
Although recognising the supremacy of the pope (they call themselves Catholics), the Maronites have always been culturally similar to the Orthodox Church, for example celebrating Easter on the Orthodox rather than the Latin dates.
During the Crusades of the 12th century, the Maronites assisted the Crusaders, reaffirming their affiliation with Rome.
Some Maronites are supposed to have come to Cyprus in the 12th Century with the Crusaders, settling mainly in this area and in the Karpas. Although there is some evidence of a Maronite colony being on the island from the 7th century. The main exodus, however, followed the siege and loss of Acre in 1291.
In this part of Cyprus, there were 4 Maronite villages. Karpasa is the smallest of them all, with a population at its peak of under 250.
The village was largely abandoned after 1974, and the population today numbers only around a dozen.
Karpasa village is off the beaten track. Indeed it is the sort of place you would only go to if you intended to go there. On the edge of the village is a well kept church, and although the population is small, services are held here every Sunday.
The church is the home of a 15th century wooden cross of immense value. Every year on the 14th September, the village saint's day, Maronites from all round the island gather here to parade the cross round the village and church.
A video of this can be seen here. (Opens in new window.)