The time in North Cyprus is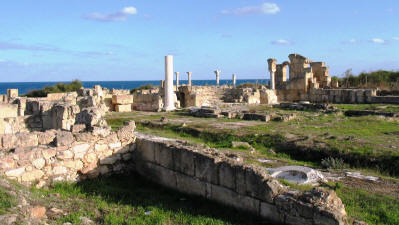 Kampanopetra Basilica
The Kampanopetra basilica occupies a magnificent position overlooking the sea, not far from the harbour. It must have been a magnificent sight to those on board ship as they approached the city.
Built in the 4th century, it consisted of a courtyard surrounded with columns, and rooms leading off. This may have been an agora, or perhaps an early monastic cloister.
At the end there was a triple apse. In the central apse, there were seats fort the bishop and other clergy.
At the back of the apse, there appears to have been baths, as there are remains of a sweating room.. One of the rooms here has a dazzling mosaic consisting of concentric rings made up of light and dark triangles.
See the location in Google maps.
Return to Salamis Index, or Famagusta Index.