The time in North Cyprus is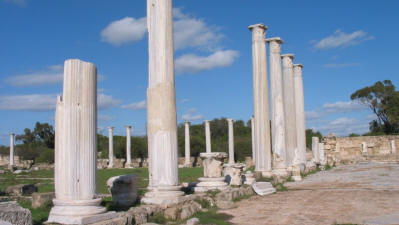 The Collonade
There has been a gymnasium on this spot dating back to Hellenistic times. The usual entrance taken by the visitor to the complex is at the north east corner, through what at one time was a swimming pool surrounded by headless statues. These date back to the second century AD. There are several theories why the statues have no heads, and they all have an element of truth.
In earliest times, the bodies of the statues were made in advance. When you purchased one, you chose the body you liked, and the head of your household god was made separately to go on top of it.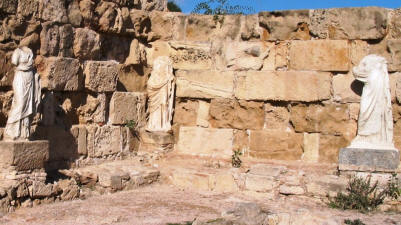 Headless Statues
Some people say that the early Christians saw the statues as "graven images", and destroyed the heads.
Another theory is that when the frequent earthquakes struck the area, the statues fell over, dislodging the heads which were subsequently taken by souvenir hunters during early archaeological excavation.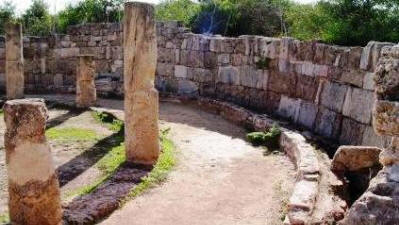 The Latrines
Passing through the swimming pool, you come on to the eastern colonnade, where you will see some inscriptions dating back to Helenistic times. At the far end is another swimming pool.
The present colonnaded quadrangle is Roman, and was restored in the 1950s. Originally used as a garden, it was built at the time of the Emperor Augustus. There was a stone column with a statue of the emperor in the centre. It was largely destroyed in the earthquakes of 332 and 342AD, and was rebuilt by the Emperor Constantius, and a section to the east added. Some of the columns were originally from the theatre, having been brought here during this rebuilding, which explains the mismatching of some of the columns and bases.
In the south west corner there are latrines set in a semi-circle. The capacity was 44, and the water pipe and water tank are still visible, as are the armrests on one side. There is another set of latrines in the opposite corner, but these are not as well preserved.
See the location in Google maps.
Return to Salamis Index, or Famagusta Index.