The time in North Cyprus is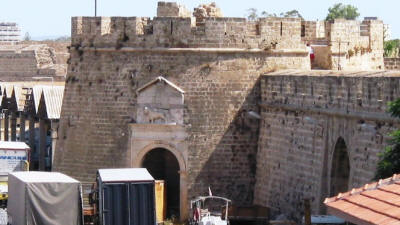 The Sea Gate
When the Venetians took over Famagusta in 1489, they immediately started to strengthen the walls. The Sea Gate, or Porta del Mare, was one of the earliest to be completed, in 1496. It was built by Niccolo Prioli in order to protect the entrance to the walled city from the Port of Famagusta. It was built at an angle, so that it was the first thing that mariners would see as they approached the city.
Unfortunately, the most interesting part of the Sea Gate is on the port side of the wall, and inside the customs area. Consequently, it is normally inaccessible. A good view can be had, however, from the Othello Tower.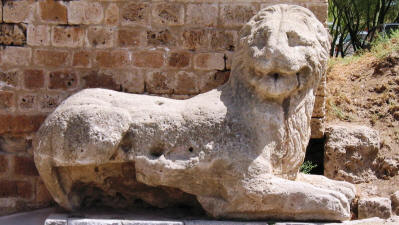 Venetian Lion Statue
Dominating the entrance, above the gate, is a large marble sculpture of the winged lion of St Mark, who was the patron saint of Venice. The lion holds a book in one paw, on it inscribed in Latin, "Peace to you Mark, my evangelist". It is thought that the marble for this sculpture was brought from Salamis. The wooden gate and portcullis, is a little later, dating from Ottoman times.
On the land side, to the right of the Sea Gate, you will see a large statue of a lion. Local legend states that one night the lion will open its mouth. The person who catches this moment and puts their hand into the lion's mouth will obtain an enormous fortune.
The Sea Gate is currently undergoing renovation.
See the location on Google maps.
Back to Famagusta index.