The time in North Cyprus is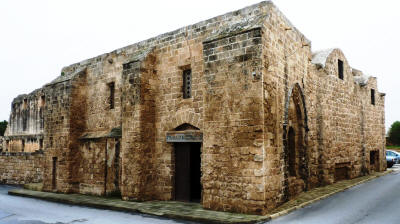 Pygmalion Sculpture Studio
The Pygmalion Sculpture Studio can be found at the western end of the Venetian Palace, between St Francis church and Sts Peter and Paul's church. It is the only remaining part of the palace that was used by both the Lusignans and Venetians.
Little is known of its history, although it is thought to date back to the 13th century.
Originally quite a simple chapel, two apses were added in the 16th century, converting it into a 3-apsed church. It is possible that the extensions were made in two stages, and it would appear that the standard of workmanship was not of the best, as the eastern one was later demolished.
During the Ottoman period, the Venetian Palace was used as a military barracks. The original chapel was joined to the extension to make an L shaped building which was used as a prison.
The arrival of the British saw a further change of use as it became the Famagusta Museum. The building was further restored in 1938, becoming a lapidary museum.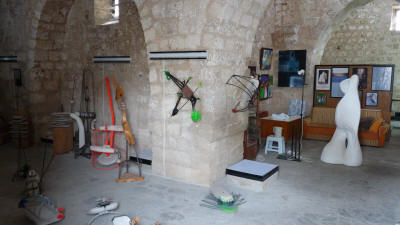 The Studio Interior
During the troubled times of 1963-1974, it was used for military purposes, but after 1974 it became a depot for the Famagusta Ancient Monuments Office.
Since 1998, the building has been rented to the artist, Baki Bogac.
Baki Bogac was born in 1951 in Larnaca. While studying architecture at Istanbul Technical University, he developed an interest in sculpture. Although originally working as an architect, he found more of his time being spent on his sculpture projects, and this finally became a full time occupation in the mid 1980s.
Over the years, he has taken part in many joint national and international exhibitions, gaining several prestigious awards, and his work can be found in various state and private collections.
The building underwent further major renovation in 1998, and since then, it has been used as a sculpture studio by the artist.
See the location on Google maps.
Back to Famagusta index.