The time in North Cyprus is
Nestorian Church
The Nestorian church is top be found in the north west quarter of Famagusta, where most middle east Christians settled.
The Nestorians mainly arrived after the fall of Acre in 1291. They were mainly merchants, and extremely wealthy.
This church was reputedly built in 1359 by Francis Lakhas, who is said to be so rich that he once ground up a diamond to spread on his food, just to show that he could afford to do it.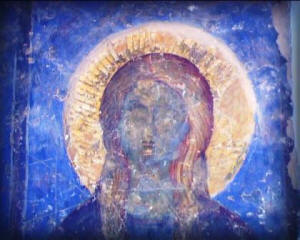 A Church frescoe
In spite of his great wealth, the church he built was simple, although there is a rather attractive rose window above the entrance. It was originally single aisled with a half-domed apse. At a later stage, two more aisles were added, and two pointed arches were opened in the north and south walls so that the aisles could communicate. It is thought that the belfry to the west is a later addition.
The interior once contained rich and diverse frescoes and inscriptions in Syriac script. Most have disappeared, but those that remain are in good condition, depicting saints.
During Ottoman times, the church became redundant, as was used as a camel stable. In the mid 19th century, the church was converted to Greek Orthodox to serve the small Greek Cypriot community in Famagusta.
The Greeks dedicated the church to Ayios Yeoryios Exorinos (St George the exiler). Legend has it that if you swept up some dust from the floor of this church and put it in your enemy's house, it would cause their death or exile within a year. The church continued to serve the Greek Cypriots till 1963.
The church is now used as a cultural centre for the Eastern Mediterranean University. It is also used for Sunday services for the Anglican community of Famagusta.
See the location on Google maps.
Back to Famagusta index.