The time in North Cyprus is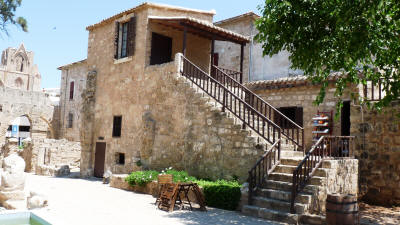 The Namik Kemal Dungeon
Known as the Shakespeare of Turkish literature, Namik Kemal spent 38 months of his life in this building.
The dungeon is two stories tall, and was built by the Ottomans in a corner of the ruined Venetian palace.
Namik Kemal was born on the 21st December 1840 in Tekirdag near Istanbul. From an aristocratic family, he was educated privately, learning Arabic, Persian and French, and was employed at the Ottoman government translation bureau. He became acquainted with leading poets of the day, and began writing himself. He became editor of the newspaper Tasvir-i Efkar, but the political nature of the publication upset the Ottoman government, and in 1867 he, together with several of his contempories, fled to London, moving later to Paris and Vienna.
On his return to Istanbul in 1871, he continued writing, and in 1873 he staged his most famous play, Vatan Yahut Silistre (Fatherland or Silistria), a drama centred on the Siege of Silistria.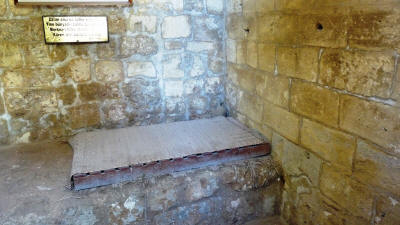 The Dungeon Cell
Silistria is in the north east of modern Bulgaria, on the banks of the Danube, bordering Romania. During one of the many Russo-Turkish wars of the 19th century, the Russians crossed the Danube from Romania and laid siege to this fortified town from December 1853 to March 1854. Britain and France intervened, demanding the Russians evacuate the area. This demand was ignored by the Russians, but they were unable to take the town , and raised the siege on the 20th March 1854. France declared war on Russia on the 27th March, followed by Britain the following day. This was the start of the Crimean war.
The play was considered dangerous by the Ottoman government as it promoted nationalism and liberalism. The play was denounced by the government on the 9th April 1873, and Namik Kemal exiled to Cyprus.
Although described as a dungeon, it is not underground. It is no less bleak for that. He originally stayed in a single room in the ground floor, measuring not much more than 15ft by 10ft, and totally devoid of furnishings. After a while he was allowed to move to the first floor with slightly more facilities.
On the 3rd June 1876, Namik Kemal was pardoned by Sultan Murat V, and returned to Istanbul on the 29th of that month. However, he continued to suffer a form of exile, being appointed to government posts in the distant islands of Lesbos, then Rhodes, and finally Chios. He continued his writings which became a source of inspiration for Kemal Ataturk. He died on the 2nd December 1888 in Chios.
The two storied building was opened as a small museum in 1993
See the location on Google maps.
Back to Famagusta index.