The time in North Cyprus is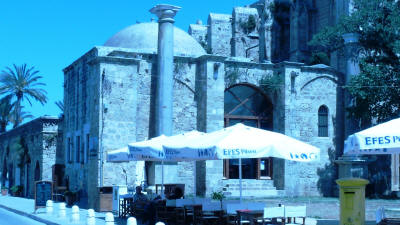 The Historic Medrese of Famagusta
Alongside the Lala Mustafa Pasha Mosque is the Historic medrese of Famagusta.
A medrese is a school associated with a mosque, and this one was built around 1700. It shows signs of classical Ottoman architecture, and is typical of many Turkish buildings.
Not typical, however are the two Granite columns. These were removed from Salamis by the Venetians, and once had the Lion of St Mark on top of them. The Ottomans obviously felt them too good to waste, and they now adorn the entrance to the medrese.
Not used for its original purpose for many a year, the medrese is now used as a restaurant.
See the location on Google maps.
Back to Famagusta index.