The time in North Cyprus is
The Armenian church
The Armenians came to Cyprus from the southern coast of Turkey before the French Lusignans arrived. Like other non-Latin or non-Orthodox Christians, they settled in the Syrian quarter of the city, so named because that was where the Carmelites from Syria were based.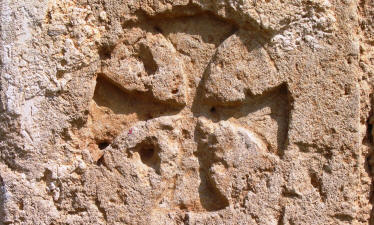 Carved Cross on the Exterior Wall
The Armenian church was probably built in the 14th century by Armenian refugees. It is quite small, with just one aisle and a cylindrical apse. The roof is in the shape of a cruciform, and the apse covered with a semi-dome. There is some evidence that a second chapel was added to the north east, but this has not survived.
Outside the church, on the walls you can see a number of crosses in different styles, no doubt carved by pilgrims as a declaration of faith. They are quite small, perhaps only 6 inches square, so you will have to look closely for them. Outside the southern door, you can also see traces of a medieval sun dial.
The church can be found close to the Martinengo Bastion, and is marked on some maps as being inside a restricted military area. This is not correct, and has not been for some time, although the barbed wire and "no photography" signs are still in place.
See the location on Google maps.
Back to Famagusta index.