The time in North Cyprus is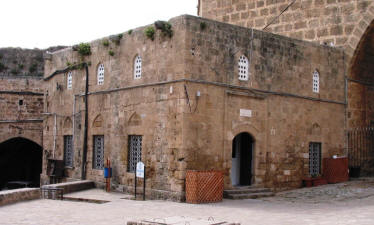 Akkule Mosque
The Akkule Mosque was built by the Ottomans around 1618, according to an inscription above the entrance door.
After they conquered Famagusta in 1571, the Ottomans constructed a new entrance to the city alongside the existing one on the Rivettina Bastion (now known as the Akkule)
In order to take care of the religious needs of the guards on the gate, this small mosque was built shortly afterwards.
Made from hewn stone, the mosque is situated between the old and new doors on the city side of the walls. In the past an Ottoman fountain was situated north-east of the mosque.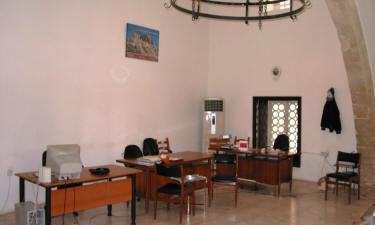 The Tourist Information Centre
The mosque is of an irregular shape because of the requirement to build it into the existing Venetian walls.
There are windows on the north-east and north-west outer walls with their upper and lower parts plastered with plaster of Paris. The lower rectangular windows have pointed stone arches above them The upper windows which are smaller in size are arched in shape.
Inside the mosque, there is an original stone chancel, and the windows are decorated with raised diamond shapes, and have double wooden wings. The flat roof of the mosque is supported by an arch running from west to east.
The mosque was renovated in the 18th Century. More recently it has been renovated again, and is now used as the Tourist Information Centre.
See the location on Google maps.
Back to Famagusta index.