The time in North Cyprus is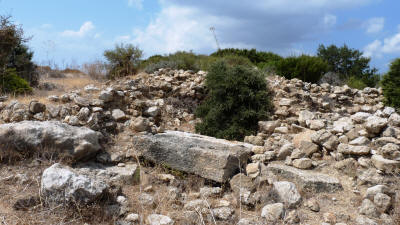 The Entrance to the Keep, With the Fallen Lintel
Nitovikla Castle can be found on the Karpaz coast, around 3km south of the village of Kuruova. The track is unmarked, but on the whole reasonably smooth. There are, however, a couple of short, steep, parts which can be rutted, particularly after rain. As you approach the coast, the valley widens out, and you will see Nitovikla on your left, along with another suspected (but unexcavated) fortress on your right. If the weather has been dry, you can cross the field here and clime up to the castle on foot. If there has been rain, the field could be quite boggy, and you will have to continue to the coast and approach from that direction.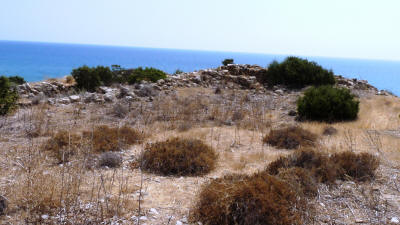 A collapsed tower and Wall
The fortress is thought to have been built around the 15th century BC to protect the local inhabitants against sea raids. It appears to have been in a good position, protected by the sea to the south, the large river who's valley you have just driven down to the west, and steep terrain to the north and east.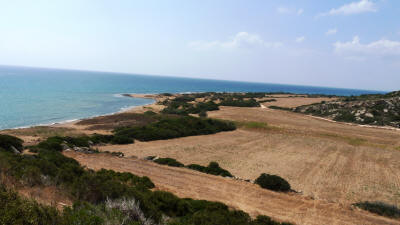 Commanding View over the Sea and River Estuary
The construction is typical of the period, being four-sided with the walls and entrance further strengthened by towers. There appears to have been a walled area at the eastern end of the complex where the local population could gather during times of tension. It is thought that the area further east, just outside the walls is the location of a necropolis, but no excavation has yet been done.
The main fortified keep lies to the west, at the highest point of the complex. Although the walls are now collapsed, the large lintel that was over the main entrance gate can still be seen, as can the remnants of the well that served the complex (just to the left beyond the lintel.). Once inside, the gate led to a large courtyard, from which rooms would have led off. These rooms had flat roofs, serving as a platform for the soldiers guarding the walls.
The fortress was excavated in 1929, although no work has been done since then. It's thought that what we see today is, in fact the second fortress here, and was built on the site of an earlier settlement. It's not known why the fortress was abandoned, though it is thought to be related to volcanic activities.
See the location on Google maps.
Return to Dipkarpaz index.