The time in North Cyprus is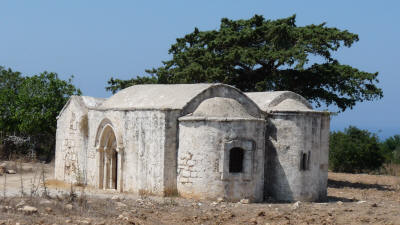 Panagia Eleousa Church
Panagia Eleousa church is a few minutes drive from the main coast road, in the hills overlooking Ronnas Bay, one of the main turtle breeding grounds in Cyprus.
The name is normally translated as the "Virgin of Loving Kindness" or the "Virgin of Tenderness", although a more accurate translation from the original Greek is "Merciful Virgin".
The church dates to the 16th century, and is two aisled, rather than the three which would be more normal for the style of the time. The aisles end in a pair of cylindrical apses. Outside the church are the remains of the monastery which this church once served.
Church Interior, showing the Different Sized Aisles
The two aisles are separated by a double archway, with the northern aisle being much smaller than the southern one. This difference in size can also be noticed from the outside in the different dimensions of the windows at the eastern end. The whole of the western end is a later addition, and the join can be seen both externally and internally.
The main door of the church shows Lusignan influences, which explains the lopsided nature of the church. The French Lusignans were Latin Christians, and while not actually banning Orthodox Christianity, treated it as second class. There are other examples in the Middle East where the ruling classes reluctantly allowed the peasants space to worship in their churches. To remind them of their place, the space allocated to the Orthodox Christians was much smaller than that allocated to the Latin Christians.
Although disused, the church continues to be a place of pilgrimage by Orthodox visitors, and it is unusual to visit and not see a lit candle.
Close to the church is a picnic area that is always popular. There is also a small cafe that is intermittently open during the summer months.
See the location on Google maps.
Return to Dipkarpaz index.