The time in North Cyprus is
Agios Georgios
As you approach Ayios Philon from Dipkarpaz, take the turn to the right before you get as far as the church. This road follows the coast for about 5km before it peters out at Aphendrika.
In the second century BC, Aphendrika was one of the six most important cities in Cyprus, much larger than Karpasia that you skirted on the way here. Like a lot of sites in North Cyprus, much has still to be excavated, and virtually all that remains are the three churches you can see on your approach. To your left is Agios Georgios. Beyond there is Panagia Chrysiotissa, while over to your right you will see Panagia Asomatos.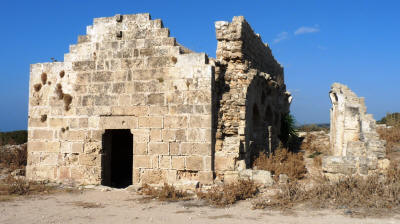 Panagia Chrysiotissa
Agios Georgios is a late Byzantine church, having been built at the tail end of the 10th century.
It was single aisled with a double apse at the eastern end and niches on either side. West of the apse, you can see the remains of four piers which had arches joining them. These in turn supported a dome on top of a rounded drum, most of which has collapsed. Most of the western end of the church has long gone.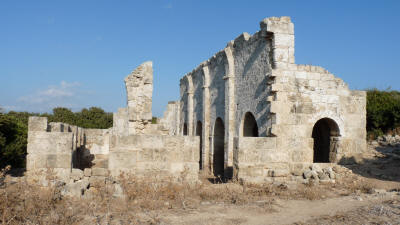 Agios Asomatos Basilica
Close to Agios Georgios is the church of Panagia Chrysiotissa, being built some four hundred years earlier than its neighbour, in the 6th century. After Arab raids, its original wooden roof was replaced by barrel vaulting in the 10th century. Further destruction meant another rebuild in the 16th century. This time the church was much smaller, but enough remains of the ruins for you to get a feel for the size and design of the original.
Over to the right is the church of Panagia Asomatos, loosely translated as "Blessed Virgin Mary, the Devine". It is similar in design to the original Panagia Chrysiotissa, and is the best preserved of the three churches. This was also built in the 6th century as a three aisled basilica. Like its neighbour, it had a wooden roof, again replaced with barrel vaulting in the 10th century. On its southern side, the apsidal passages and barrel vaulting remain.
If you have time to explore, to the west of the group of churches is the city necropolis. The remains of the ancient citadel can be found on the hill to the east, while at the sea, around 2km to the north, are the remains of the ancient harbour, now silted over.
See the location on Google maps.
Return to Dipkarpaz index.